What are Pickleberry Pie Hospital Concerts for Kids?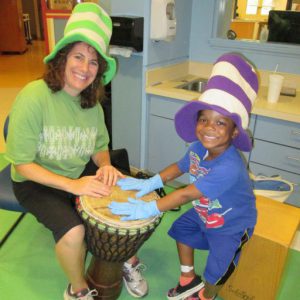 The mission of Pickleberry Pie
Pickleberry Pie's mission is to bring the healing power of music to kids and families who are dealing with illness, disabilities, or other stressful circumstances.
Music has been shown to help the healing process by lowering blood pressure, alleviating pain, improving mood, reducing stress, and helping children access and express their feelings. Pickleberry Pie succeeds by keeping the focus on kids, for kids, and with kids.
We've brought the healing power of music to over 250,000 children, family members and hospital staff.
Pickleberry Pie Hospital Concerts for Kids provides a monthly concert series for seriously ill and disabled children in Northern and Southern California; Portland, OR; Chicago, IL; Cleveland, Akron, and Columbus, OH;  Baltimore, MD; Washington, DC and surrounding suburbs; Philadelphia, PA, and Charlottesville, VA. We plan to expand to New Jersey and Boston.
We have provided over 6000 free concerts for kids in about 40 hospitals and special facilities nationwide.
Local and Adaptable
We stay adaptable because we're local. Therefore, each of our concerts is planned, scheduled, and managed entirely by the local coordinators of Pickleberry Pie Hospital Concerts. All the hospital staff has to do is publicize the concert to their patients.
We hand pick the entertainers for the concerts, selecting people we know and trust. This is crucial because it takes a special person to do this. Many of our award-winning performers have years of experience working with kids.  We pay our entertainers an honorarium, insuring a high quality, site-specific performance each time. We work closely with hospital staff to make sure that the performance is upbeat and appropriate. We've had a great variety of multicultural performers in our many concerts – including singers, guitarists, drummers, storytellers,  puppeteers, jugglers and magicians. All performers strive to involve the kids in the concert, using free, hygienically sealed rhythm instruments, group singing, songwriting, and collaborative storytelling where possible.
Win – Win – Win
Children and their families get free entertainment, brightening spirits and bringing joy and laughter.
Hospital staff enjoy the break from routine and watching their patients have a good time.
Performers love the opportunity to make a difference, and to be treated as professionals by getting a small honorarium.
"Pickleberry Pie has the capacity, manpower, and connections to bring special programming to our organization that we would not otherwise be able to provide."
– Cristen Cravath, Coordinator The Children's Inn at NIH
Our Story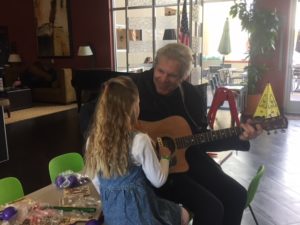 Pickleberry Pie began as a free children's radio program in 1986. This innovative program won the Corporation for Public Broadcasting's highest award in 1990. Then Pickleberry Pie created a closed circuit radio channel for Packard Hospital in Stanford, CA. This led to the first free live Hospital Concert Series in Packard and Shriner's Hospitals in 1998. Thanks to foundation support and generous volunteers, Pickleberry Pie Hospital Concerts for Kids has expanded to many hospitals and regions throughout the country. Visit our radio website at Kids Public Radio.