Pickleberry Pie Hospital Concerts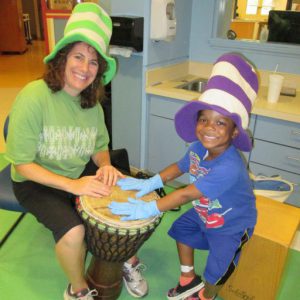 Our mission
Pickleberry Pie is dedicated to bringing the healing power of live music to children facing serious illness and/or special needs through our national network of professional musicians.
Music is so important because it can help lower blood pressure, reduce pain, improve mood, relieve stress, and help children notice and express their feelings. Therefore, we bring joy and relief to kids having a difficult time.
We've brought the healing power of music to over 250,000 children, family members and hospital staff.
California: Los Angeles, San Diego, Orange County, Santa Barbara, Bay Area, Sacramento
Illinois: Chicago
Maryland: Baltimore & DC area
Ohio: Akron, Cleveland, & Columbus
Oregon: Portland
Pennsylvania: Philadelphia
Virginia: Charlottesville & DC area
We have provided over 6000 free concerts for kids in about 60 hospitals and special facilities nationwide.
Win – Win – Win
Children get free entertainment, bringing joy and laughter.
Hospital staff enjoy the break from routine and watching their patients have a good time.
Performers love the opportunity to make a difference, and to be treated as professionals by getting a small honorarium.
"Pickleberry Pie has the capacity, manpower, and connections to bring special programming to our organization that we would not otherwise be able to provide."
– Cristen Cravath, Coordinator The Children's Inn at NIH
Our Story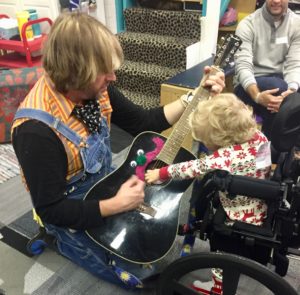 When two moms realized there wasn't enough good quality children's music on the radio they began Pickleberry Pie as a free children's radio program in 1986. This innovative program won the Corporation for Public Broadcasting's highest award in 1990. Then they created a radio channel for Packard Hospital in Stanford, CA which led to the first free live Hospital Concert Series in Packard and Shriner's Hospitals in 1998. Thanks to foundation support and generous volunteers, we've expanded throughout the country. Visit our radio website at Kids Public Radio.